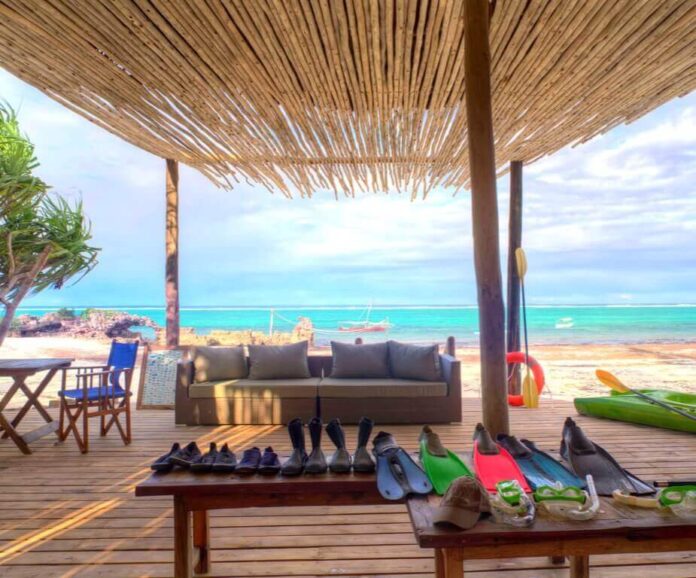 Hello Moses

When planning a beach experience in Tanzania, there are several tropical islands to consider for your clients. This week we take a closer look at a few popular destinations, with helpful advice on how to choose an island experience to suit your client's specific needs.
Diving in Zanzibar; Spa treatments at Matemwe and a Ngalawa sailing cruise along the coastline in a traditional dhow.
We will focus on Zanzibar, Pemba, Mafia, Fanjove and Thanda Islands to ensure you are equipped with the knowledge to select the best island experience for your clients.

When should your clients travel to Tanzania's islands? 
Tanzania's islands remain warm throughout the year, but certain times of year are better to visit than others:
June to October is reliably warm and sunny, with prevailing trade winds cooling things down just enough
From December to March, temperatures cool down slightly and, although there can be the occasional rain shower, this is still a great time to visit
This region has two rainy seasons:

November has afternoon showers, while it is generally quite hot and humid
In April and May, you can expect tropical downpours and thunderstorms
Zanzibar
Zanzibar is best known for its white sandy beaches, turquoise Indian Ocean, and rich marine life. What's equally as exciting is that visitors will also discover the combination of African, Arabian, Persian and Indian cultural influences that go along with the island's captivating history.
How do your clients get to Zanzibar?
Abeid Amani Karume International Airport (the international airport of Zanzibar) is conveniently accessible from most airports in East Africa, making this leg of an itinerary easy to include either before or after a safari in Tanzania or Kenya.
Several international airlines fly directly to Zanzibar however a larger number of airlines fly direct into Dar es Salam which is only a 20-minute light aircraft transfer to Zanzibar. Flights between Dar es Salaam and Zanzibar operate daily and are very frequent. From the airport, it is a 15-minute drive to Stone Town or guests can head straight to their beach destination, which will typically take less than 2 hours by car, depending on where they are staying.
What activities are on offer in Zanzibar?
Whether your guests are planning to relax on the beach and take in the sunshine, or wish to get out and explore, Zanzibar offers a selection of the very best experiences and activities on offer.
Why include Zanzibar in an itinerary? 
Rest and recuperation time, either after an international flight at the start of a longer trip or after an exciting bush safari in Tanzania or Kenya
For island-style living with tropical waters and palm-fringed beaches
For the fantastic snorkelling and diving experiences with an abundance of marine life
To learn about the complex and turbulent history of the island
To experience Zanzibari cuisine and the freshest seafood
To explore Stone Town's charming, cobbled streets, and markets
How long should your clients stay in Zanzibar? 
This depends on the client, their budget and availability. Due to the number of excellent activities in Zanzibar, most travellers stay between two and seven nights. A great itinerary would be to include a night or two in Stone Town either at the start or end of the trip with two or three additional nights at a beach lodge.
Before your clients travel to Zanzibar, please note:
Visitors need to be sensitive to local cultures. Zanzibar is a predominantly Muslim island and local traditions and customs need to be respected, especially during the holy month of Ramadan or if your clients intend to visit a religious area. No one should be intoxicated in public, and women should cover their shoulders and legs when they are away from their hotel — particularly in Stone Town.
Encourage your clients to bring their cameras, but out of respect, photographs of locals only be taken once permission has been given.
We ask that your clients do not hand out any money instead they should enquire at their hotel or lodge reception about how to donate to various local projects.
The streets of Stone Town can be a bit of a maze. Locals tend to be helpful and give directions but, if your clients are exploring on their own, they should be prepared to get lost from time to time.
Where to stay in Zanzibar?
There are some excellent beach properties in Zanzibar, ranging from rustic boutiques to luxurious resorts. Our sales consultants can make suggestions based on your client's style preference and budget, ensuring the right fit.
At the northern end of the east coast, opposite the well-known Mnemba Atoll — a hotspot for scuba diving and snorkelling — is a stunning area known as Matemwe, where Asilia has three properties: Matemwe Lodge, Matemwe Retreat and Matemwe Beach House. Detailed information for each Asilia property can be found on the Asilia Africa Info Zone.
The Mafia and Pemba Islands
Pemba Island is a beautiful, quiet island to the north of Zanzibar. It offers world-class diving and is a huge producer of spices. The beaches here are slightly less pristine than those found on Zanzibar, but they are much more exclusive and stunning. Mafia Island is located to the south of Zanzibar and offers some phenomenal snorkelling, including the opportunity to swim with whale sharks. Mafia Island has fewer white-sand beaches, as a lot of the island is fringed by mangroves. However, the laid-back feeling of an undeveloped island in the middle of the Indian Ocean more than makes up for this.How do your clients get to Mafia and Pemba Islands? 
Flights to Pemba Island go via Zanzibar and take 30-minutes.
Like Zanzibar, Pemba is best accessed from Dar es Salaam which is an hour away.
It is also possible to fly from northern Tanzania to Pemba, and it takes about 3 hours from Arusha.
Mafia is a half-hour flight south from Dar es Salaam.
Flights from Arusha take just over 4 hours while flights from the Serengeti take over 6 hours because of the many stops the plane must make along the way.
How do Mafia and Pemba Islands fit into an itinerary? 
Both Islands can be used as standalone beach destinations and we recommend that your clients stay for about a week to relax and enjoy island life. However, most travellers use Mafia or Pemba for some much-needed relaxation time after a safari.
Both destinations also work well at the start of an itinerary so clients can get over their jet lag and relax into the pace of East African life before going on safari. This often works well for honeymooners coming straight from a busy wedding or people with highly stressful jobs.
It's worth bearing in mind that to get to Pemba Island your clients must go via Zanzibar, so it is easy to include a couple of nights in Stone Town on the way to Pemba. Unfortunately, the connections for Mafia Island do not work as well for this.
What activities are on offer on Mafia and Pemba Islands? 
Kayaking, snorkelling, diving and boat trips to other islands
Excursions to exposed sandbanks in the ocean
Dhow (traditional sailing boats) sunset trips
Village visits
Dolphin safaris
Big game fishing
Spice farm tours (Pemba Island)
Swimming with whale sharks (Mafia Island, October – March) Sightings are not guaranteed during these months, but it is one of the best places in the world to see whale sharks.
Where to stay in Pemba and Mafia Islands? 
Neither island has particularly luxurious options, as they focus on rustic beach lodges. Pemba Island has higher-end options than Mafia. Our sales consultants can discuss available options with you to ensure the best fit for your clients.
Reasons to include Mafia and Pemba Islands in an itinerary:
Unspoiled and undeveloped when compared to Zanzibar
The best diving and snorkelling in East Africa
Swimming with the largest fish in the ocean, such as whale sharks
An adventurous beach holiday with opportunities to fish and explore untouched reefs and tropical forests
Extremely peaceful, quiet, and laid back
Before your clients travel to Pemba and Mafia Islands, please note: 
If they are looking for high-end luxury, options are limited
The beaches are not as accessible or endless as they can be in Zanzibar
There is no Stone Town equivalent which means the islands lack some of the same interesting history and different cuisines
It takes a long time to get to these islands from a safari in northern Tanzania
Discover many of the alternative uses for Zanzibar's famous spices on the Spice Tour, take a village trip to visit a local school or enjoy big-game fishing.
There are a couple more island destinations that may suit your client's needs.

Fanjove Island 
Fanjove Island is part of the Songo Songo Archipelago, 140 kilometres / 85 miles south of Dar es Salaam, in the Indian Ocean. Fanjove Island is a tiny island, less than 1,000 metres long, and has just six simple, eco-friendly, thatch bandas. Wildlife is abundant on the island from seabirds to coconut crabs and hawksbill turtles to bottlenose dolphins. Fanjove's white beaches offer a near private island experience for a fraction of the expected price.

How do your clients get to Fanjove Island?
Fly from Dar es Salaam to Songo Songo (via Mafia Island) which takes about an hour. From there, catch a 45-minute boat ride to Fanjove Island.

Thanda Island
Thanda Island is one kilometer in circumference and is fringed by exotic white beaches and pristine coral reefs. There is just one high-end five-bedroom villa on Thanda Island, which caters to one group of up to 10 people at a time. Thanda Island is the ultimate private island experience, but it comes at a very high price – enquire with your sales consultant.

How do your clients get to Thanda Island?
Fly from Dar es Salaam to Mafia Island which takes about half an hour. From there catch a 45-minute boat ride, or a short helicopter flight, north from Mafia Island.

Whether you are planning a standalone beach trip or a bush and beach itinerary for your clients, your Asilia regional market manager and sales consultants are always here to advise and answer any specific questions to ensure a fantastic itinerary for your clients.