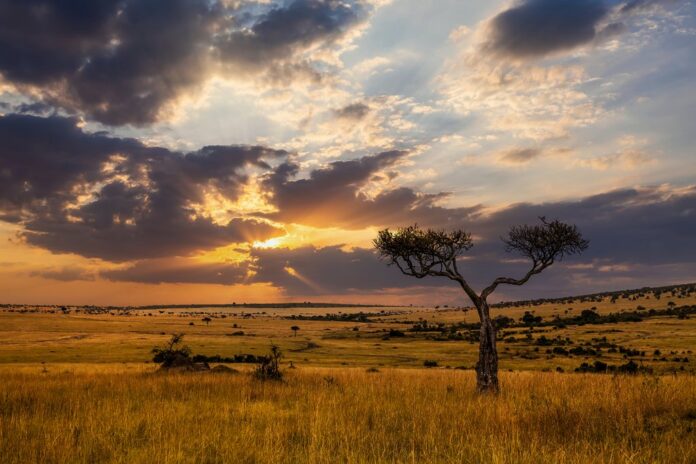 Kilimanjaro is Africa's tallest mountain and the largest free-standing mountain in the world. It's a dormant volcano that last erupted around 360,000 years ago. In more recent times, it's been celebrated in lore and literature to the point it has taken on almost mythic status—everyone recognizes the iconic snow-capped table of Kilimanjaro.
And in the time since it was first summited in 1889, it has become a bucket-list destination for both pro and amateur hikers around the world. Now it's your turn to experience the majesty of this mountain on a day hike.
It has three main volcanic peaks, Kibo, Mawenzi, and Shira. With its snow-capped peak and glaciers, it is the highest mountain in Africa. The mountain has five main vegetation zones from the lowest to the highest point:  Lower slopes, montane forest, heath and moorland, alpine desert and summit.
The whole mountain including the montane forest belt is very rich in species, in particular mammals, many of them endangered species.  For this combination of features but mostly its height, its physical form and snow cap and its isolation above the surrounding plains, Mount Kilimanjaro is considered an outstanding example of a superlative natural phenomenon.
You will leave early for the drive from Moshi into Kilimanjaro National Park. The guided trek begins at the Marangu Gate, located on the southeast side of Kilimanjaro, and sits at 6,135 feet (1,870 m). Commence hiking on a route that will take you up through the lower rain forests of the mountain. You will have ample opportunity to admire the local wildlife, including exotic birds and the black-and-white colobus monkey.
After 3-4 hours of hiking, you'll arrive at Mandara Hut (8,858 ft/2,700 m), located in a new climate zone. Here, amid the scenic montane forest, you'll enjoy a picnic lunch and a short walk to Maundi Crater. At this lookout point, you will have spectacular views of Kilimanjaro's peak, northern Tanzania, and (weather permitting) out to Kenya. Take plenty of photos because afterward, you'll descend back down to Marangu Gate, where a car will be waiting to transfer you to Moshi.
Serengeti National Park is a World Heritage Site teeming with wildlife: over 2 million ungulates, 4000 lions, 1000 leopard, 550 cheetahs and some 500 bird species inhabit an area close to 15,000 square kilometres in size.
Join us on a Tanzania safari and explore the endless Serengeti plains dotted with trees and kopjes from which majestic lions control their kingdom; gaze upon the Great Migration in awe or find an elusive leopard in a riverine forest. Or perhaps see everything from a bird's-eye view and soar over the plains at sunrise during a hot air balloon safari.
It's the only place where you can witness millions of migrating wildebeest over the Acacia plains, it's the cradle of human life, and probably the closest to an untouched African wilderness you will ever get.
The genuine smiles of the Maasai people, giving you an immediate warming glow inside. Or just the feeling of constantly being amongst thousands of animals – it doesn't matter what season of the migration you visit the Serengeti National Park, its magical all year round.
Most visitors come here with one aim alone: to witness millions of wildebeest, zebras, gazelles and elands on a mass trek to quench their thirst for water and eat fresh grass.
During this great cyclical movement, these ungulates move around the ecosystem in a seasonal pattern, defined by rainfall and grass nutrients. These large herds of animals on the move can't be witnessed anywhere else.
Whereas other famous wildlife parks are fenced, the Serengeti is protected, but unfenced. This gives animals enough space to make their return journey, one that they've been doing for millions of years.
There are plenty of other reasons to visit the Serengeti. If it's not for this vast stretch of land where you can drive forever and never get enough, it might be for the incredible skies of dazzling colours or the primal feeling of excitement when a deep dark-grey thunderstorm appears on the broad horizon.
Or you might answer the lion's call, and come to the Serengeti for one of the largest concentrations of predators in the world: the herds support about 7,500 hyenas, 3,000 lions and 250 cheetahs. And how about the silent grey giants? Elephants in the Serengeti amble over the plains into the woodlands, feasting on leaves and tree branches.
Spend the next couple of days living the dream of every wildlife enthusiast as you embark on safaris across the wondrous Serengeti. You'll enjoy both morning and afternoon game drives to witness the wildlife in one of the oldest ecosystems on earth.
Besides being a great place to spot Big Five animals, the Serengeti hosts the annual Great Migration. From June to November, this "greatest wildlife show on earth" sees more than a million wildebeest, plus hundreds of thousands of zebras and Thomson's gazelles, undertake the long trek to new grazing grounds.
You'll start early, as mornings are the best time to see the animals at their most active. You'll likely see grazing giraffes and zebras, and perhaps even lions as they hunt wildebeests and gazelles during this time. Other animals you're likely to spot include elephants and buffalo, with leopards and rhinos being a less common sight. You can choose to have lunch on the road or back at camp, after which you'll continue the game drive into the afternoon.
One optional activity is a sunrise safari in a hot-air balloon. That's right—you'll hop in a balloon basket for a 1-hour ride over the Savannah. Capping the experience will be a sumptuous champagne breakfast on the plains. Spend the remainder of the morning in camp, have lunch, and embark on an afternoon game drive.
The Kilimanjaro Serengeti safari is one of the memorable safaris in Tanzania you may not afford to miss in East Africa.