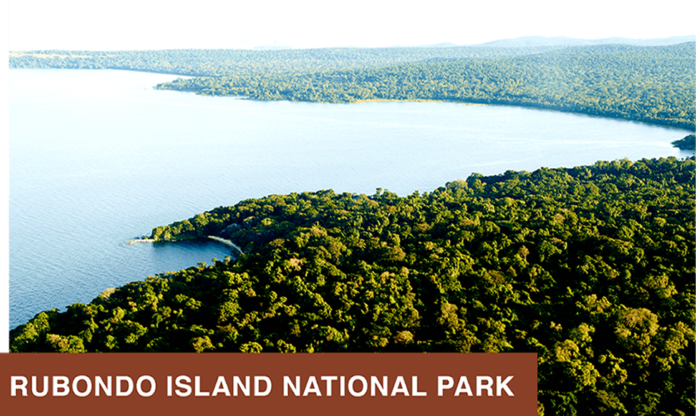 Hello Moses
This month we will be taking a closer look at one of Tanzania's most intriguing destinations: Rubondo Island National Park. Lying in the southwest corner of Lake Victoria, Rubondo Island is the largest island national park in Africa and — bar a handful of park wardens and camp staff — the island is uninhabited and purely a refuge for threatened animals. Over three-quarters of the island is blanketed in pristine evergreen and semi-deciduous forest that provides a protected habitat for wildlife like sitatunga, elephant, giraffe, chimpanzee and 300 species of birds.Given Rubondo Island is not a traditional safari destination, it will likely not suit all clients. But those who are interested in getting off the beaten path will want to know the history of this fascinating island, how to get there and what they can expect to see and do during their stay. These are the topics we will cover during this newsletter, ensuring you have all the tools and information necessary to offer your clients a truly unique experience.
Sundowners on the beach of Rubondo Island Camp, Lake Victoria.
History of Rubondo Island
Rubondo Island became a game reserve in 1965 and then a national park in 1977. From 1966 to 1969, Professor Bernhard Grzimek of the Frankfurt Zoological Society released 16 chimpanzees in four cohorts onto the island. The chimpanzees were all originally wild-born and of West African descent but had been rescued from various European zoos and circuses. The chimpanzees had spent varying periods, from 3.5 months to 9 years, in captivity before being set free on Rubondo Island. This was the first-ever attempt to rehabilitate captive chimpanzees. The chimps had no rehabilitation or pre-release training but after one year on Rubondo, they were able to find and eat wild foods and construct sleeping nests. The population has now grown to over 60 individuals.
Several other species such as roan antelope, rhino, elephant and giraffe were also introduced on the island. Sadly, the rhino were poached, but today, hundreds of species flourish here; they have adapted to the forest and continue to live in harmony.
Rubondo Island in its early days as a national park.
Asilia

opened the only camp on the island on 1 June 2013, Rubondo Island Camp. Our aim has always been to structurally improve the prospects for the area, turning Rubondo Island into a profitable and sustainable travel destination. Our effort to habituate the community of 60+ chimpanzee on the island is a long and arduous task, but one that will ultimately ensure a steady stream of visitors who wish to see our closest cousins in their natural habitat. In 2017, for the first time, every guest who visited Rubondo in high season saw the wonderful chimps. With our help, the chimp population continues to grow stronger, and sightings become more frequent for our guests.

How to get to Rubondo Island National Park
Despite the remoteness of the island, it is surprisingly easy to access. Connections from Kigali, Arusha and the Serengeti happen three times per week (Tuesday/Thursday/Saturday) and flight times are relatively short (1-2 hours). Please note that some flights may require an inducement of two pax or more; please ask your Asilia consultant for more details.
Clockwise from left: A light aircraft landing on the Islands airstrip, Chimpanzee and Chimpanzee habituation experience briefing.
Activities available from Rubondo Island
Activities from camp are focused around discovering and enjoying the remarkable ecosystem of the island. The main draw to the island is the unique chimpanzee habituation experience, but there are plenty of other activities on offer:
Birding — With more than 300 endemic and migratory bird species, Rubondo Island is an ornithologist's dream.
Boating — Aboard one of the camp's boats your clients soak up the tranquillity of their surroundings and try to catch a glimpse of the hippos, otters and monitor lizards in the water.
Catch and release fishing — Rubondo Island offers the opportunity to catch one of Africa's biggest and most sought-after freshwater species – the Nile perch. Catch-and-release fishing can be done from the camp, on the beach or rocks on the shore or from a boat.
Cultural visits — Visit local villages and fishing communities on neighbouring islands by boat.
Explore the island on foot or vehicle — Daily forest drives in open vehicles are conducted by

Asilia

's expert wilderness guides. Guided walks can be tailored to each guest, from a one-hour stroll to full-day hikes.
Chimpanzee habituation experience — Home to a very special group of chimpanzees whose ancestors were brought here in the 1960s as part of an ambitious conservation project, today your clients can be part of the habituation process. This is a unique opportunity to join the habituation team as they accustom the chimps to the presence of humans and witness them up close in the wild.
Clockwise, from top: Yellow Billed Kite, Chimpanzee trekking, a late afternoon fishing trip and an island elephant on Rubondo.
How does the Chimpanzee habituation experience differ from that offered in other areas of Tanzania, Uganda and Rwanda?
Rubondo Island offers more than simply a trek to see chimps; this is a unique opportunity to be part of a pioneering chimpanzee habituation experience.
The permit cost US$135 per person, excluding VAT (US$159.30 including VAT).
All guests are required to wear masks.
Viewing the chimpanzees is not limited to 1 hour. This is a habituation experience, so once your guests locate the chimps they can stay and observe them for as long as they please (or if the chimps are on the move, for as long as the guests can keep up).
Group size on Rubondo Island is limited to four people and all must be over 16 years old.
Chimpanzee sightings are not guaranteed. We recommend staying for a minimum of 3 nights and booking a second permit if necessary.
Trekking on Rubondo Island is an extremely active experience; the terrain can be hilly and uneven, and given the chimps are rarely stationary, a reasonable level of fitness is required.
This experience will be led by a team of two: a TANAPA ranger and an

Asilia

resident guide. The TANAPA ranger leads the team to the Chimp Trackers (habituation team) and while this is in progress, the

Asilia

guide interprets the forest habitat of the chimpanzee.
You can find more information on Rubondo Island, including property information for Rubondo Island Camp, a detailed article on the island's history and frequently asked questions around the chimpanzee habituation process and suggested itineraries including Rubondo Island on the Asilia Agent Space.
Rubondo Island is also covered in Lion Level of the Asilia Academy. If you have not signed up to our industry-leading, online training program, please it is ASILIA AFRICA with the authoritative right to this information posted above.