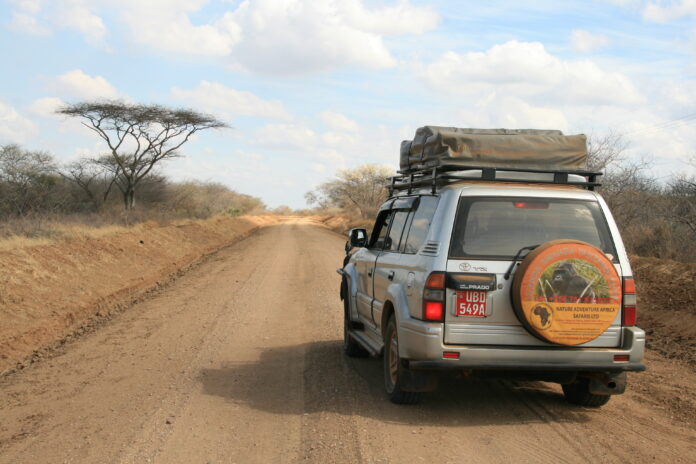 Wildlife, beaches, and friendly people, Serengeti, Ngorongoro, Mt Kilimanjaro, and Zanzibar: Tanzania has all these and more wrapped up in one adventurous, welcoming package when you decide to book with 4X4 Car Hire Uganda. Wherever you go in Tanzania, opportunities abound for getting to know the country's people and cultures. Meet red-cloaked Maasai warriors.
More than anything else, it is the Tanzanian people that make visiting the country so memorable. Now it is much possible to explore the country with the 4×4 rooftop rental cars in Tanzania and chances are you will want to come back soon, to which most Tanzanians will say "Karibu Tena" (welcome again).
Below are the tourist places to visit on road trip in Tanzania
Ngorongoro Conservation Area
This conservation area is a top choice nature reserve in northern Tanzania and a UNESCO World Heritage Site. This astounding area encompasses the Ngorongoro Crater, Olduvai Gorge and much of the Crater Highlands.
It can be experienced in many ways – from a vehicle safari to the floor of the wildlife-packed Ngorongoro Crater to a rugged trek in the Crater Highlands to a foray into the past at Olduvai Gorge. However, you choose to visit, it's an essential part of any Northern Tanzania journey.
The main feature of the Ngorongoro Conservation Authority is the Ngorongoro Crater, the world's largest inactive, intact and unfilled volcanic caldera. Approximately 25,000 large animals, mostly ungulates, live in the crater.
Wildlife includes large mammals in the crater include the black rhinoceros, the local population of which declined from about 108 in 1964-66 to between 11–14 in 1995, the African buffalo or Cape buffalo, and the hippopotamus. There also are many other ungulates: the blue wildebeest, Grant's zebras, the eland, and Grant's and Thomson's gazelles, Water bucks occur mainly near Lerai Forest.
Serengeti National Park
Serengeti is a top choice national park in the Northern Tanzania. On the vast plains of the Serengeti, nature's mystery, power and beauty surround you as they do in few other places. The most famous, and numerous, are the wildebeest (of which there are some 1.5 million) and their annual migration is one of the Serengeti's biggest draws.
The Serengeti hosts the second largest terrestrial mammal migration in the world, which helps secure it as one of the Seven Natural Wonders of Africa, and as one of the ten natural travel wonders of the world.
The Serengeti is also renowned for its large lion population and is one of the best places to observe prides in their natural environment. These feast on zebras, giraffes, buffaloes, Thomson's and Grant's gazelles, topis, elands, hartebeests, impalas, klipspringers, duikers and so many more. Serengeti is an incredible bird watching destination also, with over 500 species.
Approximately 70 large mammal and 500 bird species are found there. This high diversity is a function of diverse habitats, including riverine forests, swamps, kopjes, grasslands, and woodlands. Blue wildebeest, gazelles, zebras, and buffaloes are some of the commonly found large mammals in the region.
In February more than 8000 wildebeest calves are born per day, although about 40% of these die before reaching four months old. A few black rhinos in the Moru Kopjes area give you a chance to glimpse all of the Big Five (lion, elephant, rhino, leopard and buffalo), although the rhinos are very rarely seen.
Each year around the same time, the circular great wildebeest migration begins in the Ngorongoro Conservation Area of the southern Serengeti in Tanzania and loops clockwise through the Serengeti National Park and north towards the Masai Mara reserve in Kenya. This migration is naturally caused, by the availability of grazing.
The initial phase lasts from about January to March, when the calving season begins a time when there is plenty of rain-ripened grass available for the 260,000 zebras that precede 1.7 million wildebeest and the following hundreds of thousands of other plains game, including around 470,000 gazelles.
Tarangire National Park
Tarangire National Park is a national park in Tanzania's Manyara Region. Thanks to its relationship with Serengeti and Ngorongoro, Tarangire is usually assigned only a day visit as part of a larger northern-circuit itinerary. But it deserves a whole lot more, at least in the dry season. This is a place where elephants dot the plains like cattle, and where lion roars and zebra barks fill the night, all set against a backdrop of constantly changing scenery.
The park is famous for its high density of elephants and baobab trees. Visitors to the park in the June to November dry season can expect to see large herds of thousands of zebra, wildebeest and cape buffalo. Other common resident animals include water buck, giraffe, impala, eland, Grant's gazelle, vervet monkey, banded mongoose, and olive baboon. Predators in Tarangire include lion, leopard, cheetah, caracal, honey badger, and African wild dog.
Home to more than 550 bird species, the park is a haven for bird enthusiasts. The park is also famous for the termite mounds that dot the landscape. Those that have been abandoned are often home to dwarf mongoose. In 2015, a giraffe that is white due to leucism was spotted in the park. Wildlife research is focused on African bush elephant and Masai giraffe.
Kilimanjaro National Park
Kilimanjaro is a top choice national park in Northern Tanzania. Since its official opening in 1977, Kilimanjaro National Park has become one of Tanzania's most visited parks. Unlike the other northern parks, this isn't a place to come for the wildlife, although it's there. Rather, you come here to gaze in awe at a snow-capped since its official opening in 1977; Mt Kilimanjaro National Park has become one of Tanzania's most visited parks. Unlike the other northern parks, this isn't a place to come for the wildlife, although it's there.
A hike up Kili lures around 25,000 trekkers each year, in part because it's possible to walk to the summit without ropes or technical climbing experience. Non-technical, however, does not mean easy. The climb is a serious (and expensive) undertaking, and only worth doing with the right preparation. There are also many opportunities to explore the mountain's lower slopes and to learn about the Maasai and the Chagga, two of the main tribes in the area.
Mahale National Park
Another interesting place to visit in on your road trip in Tanzania is Mahale Mountains National Park. This park lies on the eastern shore of Lake Tanganyika in Kigoma Region, Tanzania. Named after the Mahale Mountains range that is within its borders, the park has several unusual characteristics. First, it is one of only two protected areas for chimpanzees in the country.
Mahale Mountains National Park harbours the largest known population of eastern chimpanzees and due to its size and remoteness, the chimpanzees flourish. It also is the only place where chimpanzees and lions co-exist. Another unusual feature of the park is that it is one of the very few in Africa that must be experienced by foot.
There are no roads or other infrastructure within the park boundaries, and the only way in and out of the park is via boat on the lake. The park is also renowned for its fantastic sunsets over Lake Tanganyika, which makes it an essential stop for keen photographers and safari enthusiasts.
Gombe Stream National Park
Gombe National Park is also a top choice for your road trip in Tanzania. This is one of the smallest national parks but its famous primate the chimpanzee inhabitants and its connection to Jane Goodall have given it worldwide renown. Many of Gombe's 100-plus chimps are well habituated, and though it can be difficult, sweaty work traversing steep hills and valleys, if you head out early in the morning, sightings are nearly guaranteed.
Accessible only by boat, the park is most famous as the location where Jane Goodall pioneered her behavioural research conducted on the chimpanzee populations. Chimp tracking is only permitted for those aged 15 and older, and you must be with a guide at all times except at the lake shore.
As well as chimp tracking you can go and see Jane's old chimp-feeding station, the viewpoint on Jane's Peak and Kakombe Waterfall. It's also possible to hike along the lake shore, but you still need to pay the same fees.