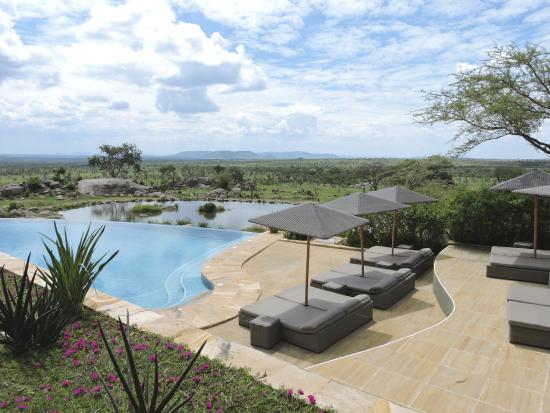 Are you planning to take your Tanzania safari in Serengeti National Park either on Tanzania flying safaris or Overland trips here are some of the best safari lodges and camps to stay.
Serengeti Serena Safari Lodge is an award-winning gem of a hotel in one of the most beautiful settings in Tanzania. The lodge is blended high into an acacia-lined ridge, our African-style lodge and infinity pool offer panoramic views across the Serengeti's vast, endless grasslands, where lions and cheetahs stalk their prey and massive migrating wildebeest herds darken the landscape in a relentless search for fresh grazing grounds.
Accommodation
Our suite offers a spacious bedroom appointed with a King bed and a separate sitting room furnished with a fully stocked mini-bar, a digital multi-channel TV and a direct dial telephone.
In keeping with our commitment to preserving the essence of our surroundings, Serengeti Serena Safari Lodge has been designed to blend seamlessly into the landscape of acacia groves and sparkling streams.
Our 65 guest rooms and one suite are housed in clusters of traditional domed "rondavels" arranged around the lodge's stunning infinity pool.
Decorated in warm earth tones punctuated by pops of brightly coloured fabrics and ornate Makonde carvings on the walls, all rooms feature their own private entrance, hand-made wood furniture, spacious bedrooms and natural stone bathrooms.
Amenities like complimentary wireless Internet and 24-hour room service along with personalized touches like standing/table fans and comfortable robes enhance the guest experience.
Dinning
At Serengeti Serena Safari Lodge, our restaurant and dining experiences are as impressive as their majestic surroundings. Greet the morning with a cup of fine Tanzanian coffee or tea on your private balcony.
Indulge in the choicest cuts of meat in our dining room or allow us to arrange an English breakfast or sun downer cocktails in the bush. Top off an evening with a cocktail on the terrace overlooking the infinity pool. With cuisine uniquely crafted by our experienced culinary team, the possibilities are endless.
Breakfast and lunch are presented in buffet-style and feature a wide range of international choices. In typical safari style, we offer a full English breakfast as well as European options while our lunch menus will typically include meat, poultry, fish and vegetarian options.
Our table d'hôte dinner menus feature a salad buffet, soup, entrée, pudding, cheese and biscuits as well as tea or coffee. Vegetarian options are always available. The majority of our meat and dairy products, as well as our fruits and vegetables, are sourced from the communities that surround the reserve.
Lodge Facilities
Infinity pool overlooking the plains
Traditionally-carved, domed dining room
Individual 'rondavels' rooms with private balconies
Scenic safari bar with timbered terrace
Private bush camp overlooking the migration
Central barbeque area and water gardens
Game drives daily
Wedding planning and honeymoon venue
Gift shop, business centre, Wi-Fi
Conference centre
Extensive selection of sports and activities
Cultural dance and music
Twiga Rest house
Twiga offers simple but decent rooms with electricity and hot showers, and satellite TV in the lounge. Guests can use the kitchen, or meals can be cooked for you if you order way in advance. There's a well-stocked little bar and a bonfire at night.
Located on the edge of the escarpment overlooking the plains of the south-western Serengeti National Park, home too many thousands of wild and rare animals, Serengeti Sopa Lodge lies within an area of out-standing natural beauty, an oasis of cool relaxation from the equatorial sun.
The lodge allows its guests to experience magnificent sights and enjoy interaction with the land and animals difficult to find elsewhere, whilst at the same time enjoying the highest level of cuisine and hospitality.
Features of the lodge
Unlike most other safari lodges throughout East Africa, the main building does not have a traditionally African thatched roof.  It has instead a flat roof which we often use for cocktail, sun downer and private parties.
However, when you step down from these lofty heights into the sudden coolness of the reception lobby and move on, you will find stairs and ramps which either take you down to the dining room, with its outdoor terrace and simply delicious and sumptuous meals that are to die for, or across to the conference room before descending further to the ground floor.
Reception
Airy and spacious, the walls painted with rich earth colors reflecting the tones of the surrounding area.
Lobby
Furnished with large comfortable chairs made out of driftwood, huge cushions and colorful throw pillows, the low ceiling has wooden beams across and the pillars holding it are shaped like huge pots stacked together. Beautiful metallic wall lamps with soft lighting complete the overall, warm and intimate effect.
Accommodation
69 standard rooms, all with 2 queen size beds, carpeted, and tastefully furnished with local fabrics and pictures. One entering the room is a lounge with a mini bar. In the front is a veranda with 2 comfortable chairs and coffee table, with glass windows facing the vast Serengeti plains which extend as far as the naked eye can see.
1 of these rooms are suitable for the physically handicapped. 4 very spacious double storey suites, with a lounge area on the ground floor where one can dine, sit out on the balcony facing the Serengeti Plains.
Upstairs is the bedroom with a king size bed on a raised wooden platform, and on one side a bathtub facing the plains. There is an outside open shower as well. The interior of the suites are painted with the same colours as the main building, terracotta, mustard and blue, which is incorporated in the fabrics. A veranda extends from the room facing the plains, ideal for relaxing and watching the spectacular Serengeti sunset.
Dining experience
An open dining area, spacious, airy and lots of light emanating from the floor to ceiling windows, this allows a magnificent view of the plains as well, the furniture is wrought iron chairs and wooden tops, all artistically done.
The walls are painted in a mud red colour with window like spaces holding art-facts found in the region. Behind the buffet area is a shimmering blue placement, like a glass mosaic, adding on to the theme.
The Bar is set in a corner with a view of the Serengeti plains, the bar area is strategically placed with an uninterrupted view, and has a terrace for seating with comfortable chairs.
Robanda Safari Camp is located in Ikoma gate-controlled area bordering Serengeti National Park. Robanda Safari Camp is a permanent tented camp built in the path of the wildebeest migration giving the guest the pleasure of witnessing the great wonder.
This refreshingly small budget (by Serengeti standards) camp on the plains near Robanda village just outside Fort Ikoma gate has seven no-frills tents covered by a thatched roof. You can do guided walks, and night drives if you have your own vehicle.
Accommodation
Robanda Safari Camp has 10 tents, 5 luxury and 5 bush style permanent tents in the wilderness.
The luxury bush tents are spacious with double or twin beds, annex bathroom and a private veranda overlooking the Serengeti Plains.
The bush style tents are large mobile tents fixed permanently. Each tent has its own private bathroom with a bush shower and a toilet.
Relaxing on your private veranda you have a nice view over the plains with herds of wildebeest and zebra.
Food
There is a panoramic open restaurant with fine cuisine and a well-stocked bar. Animals come and go to a water hole only 30 meters away from the bar
Ikoma Tented Camp is set in the midst of incredible scenery of Savannah and skies, you find Ikoma Tented Camp, sheltered in a grove of acacia trees. Ikoma has 35 traditional Meru tents, each under thatch with a private veranda overlooking the impressive plains of the Serengeti.
The central restaurant and bar area boast a large camp fire – an ideal spot to unwind with a chilled drink after a long days of exciting game viewing. Ikoma Tented Camp is ideally situated at the border of the world-renowned Serengeti National Park, along the path of the migrating wildebeests between Kenya and Tanzania.
From Ikoma you can enter the western corridor of the park, taking in Kirawira and the Grumeti River – home to the giant wildebeest-eating crocodiles. There is no better place to enjoy one of the world's greatest wildlife spectacles.
Staying at Ikoma Tented Camp gives you the unique opportunity to enjoy a night game drive or a walking safari, as the camp is located just outside the national park boundary. Here is a great chance to see and hear some of the nocturnal animals that can't be spotted in daytime, such as the Leopard, Aardvark and the Bat-eared fox.
Another special way of experiencing the bush is by going along on a guided walking safari. Guided by a professional ranger and guard you discover the bush and its inhabitants at close range.
A great way to start or end a day in the Serengeti National Park, followed by a breakfast in the bush or a sun downer at the close of the day, the airstrip a short distance away from the camp means you can be with us in next to no time and avoid the long drive through the park should you prefer a shorter journey.
Features
35 spacious tented rooms with attached bathroom and a private veranda with stunning views of the Serengeti
Bathroom with shower, flush toilet, wash hand basin, soap, towels and bottled water
Mosquito nets, candles with matches and electrical lighting in the tent
Camping site with kitchen, toilets and showers
Charging possibilities for cameras, batteries, etc.
Spacious restaurant and bar area serving a daily changing 4 course menu, and complementary coffee and tea in the afternoon
Full & half board rates; lunch boxes available
Fireplace
Cold drink service at the rooms by sunset
Bush breakfast or bush dinner is possible on request
Support of the local village by daily bed night fees and a yearly grant
Activities: night game drive, walking safari at sunrise or sunset, visit to local Maasai village, balloon safari picks up from the camp
Airstrip nearby
Grumeti and Western Corridor
Serengeti Stopover Lodge is located along Mwanza to Musoma Road at the edge of Serengeti National Park, in Tanzania, East Africa. It is 1 km south of Serengeti Ndabaka entrance Gate and entry 2 cm from Lake Victoria, 135 km to Seronera (The heart at Serengeti Park), 141 cm East at Mwanza City, 153 km from Sirari (Tanzania, Kenya broader).
It has 14 self-contained rondavels built in Sukuma style materials with hot showers connected. You can park your car close to your room. We have full network coverage 24/7
Meals and Drinks
A large open Banda server as a restaurant, a small Banda server as bar and three other open small Banda's are available for resting. Soft & hard drinks are served at the bar all the time until the all guests retire.
Cruising is ahizan as well as European style Use also provide lunch boxes for travelers. Breakfast is served with juice, fresh fruits, eggs, toiled bread, sausage/becom and Tea/coffee with milk. Dinner or lunch is served according to individual needs including buffet.
Room
We offer self-contained rooms with an assortment of single rooms, double room and Triple rooms thus provide our customers with wide range of choices, Modern furniture, warm colours and comfortable beds ensure a relaxed atmosphere at our accommodation in Serengeti Stopover Lodge.
Balili Mountain Resort & Campsite set on the rocky hills range stretches over a large part of Bunda district and lush gardens amid forest from the coast all the way inland! This magical and perfect place commands spectacular views over the Serengeti plains of the Serengeti National Park, Lake Victoria- The largest Lake in Africa and The Bunda town.
Here you can spend the days amid nature, watching the changing colors of the Sunset on the Lake Victoria while sipping drinks on the verandah or hiking in the forest inhabited by Klipspringers, Pongo, Rock hyrax, velvet monkeys, banded & dwarf mongoose as well as hundreds of small animal and bird species.
Rooms
Balili Mountain Resort features comfortable rooms, each with a private balcony overlooking oxygen rich, natural vegetation, Bunda town, Lake Victoria and Horizon.
Restaurant
Our Restaurant and bar are amazing. Built in an African style
Wildlife and advantage
Come and experience adventure and wildlife
Grumeti Serengeti Tented Camp
Grumeti Serengeti Tented Camp is located in the remote Western Corridor of the Serengeti; Grumeti provides a private Serengeti experience with exclusive game viewing in some of the most secluded parts of Africa's most famous game reserve. Its rustic yet sophisticated safari tents are tucked into the shade of an evergreen forest on the banks of a tributary of the famous Grumeti River.
Black and white colobus monkeys chatter in the foliage and chase each other over the thatched roofs of the tented suites. A resident pod of hippo grunts and grumbles from beneath a layer of luscious green water weeds in the tranquil pool in front of the camp.
Game drives from the camp can expect to encounter large lion prides and clans of hyena up to a hundred strong, as well as the great herds of Tanzania's annual Great Migration.
Each year, the masses of wildebeest and zebra cross the waters of the Grumeti River, home to some of Africa's largest crocodile, in search of fresh grazing grounds.
The camp is situated on a by-water of the Grumeti River, known for its dramatic wildebeest crossings and enormous Nile crocodiles. Tucked into a strip of riverine forest, guests thrill to the antics of the resident hippo in the tranquil pool in front of the camp and the spectacular pied colobus monkeys, found nowhere else in the Serengeti.
The camp
Meals can be enjoyed on an extensive deck with beautiful views towards the river, while the dining area opens up to a traditional African boma, where dinner is served beneath a billion stars. Traditional fires known as Jikos and outdoor ovens produce mouth-watering aromas, while the sounds of the African night provide a gentle backdrop to tales of the day's safaris.
Intimate guest areas include open-fronted sitting and dining areas, as well as a domed bar, all adorned with beaded artefacts. The spacious decks are perfect for enjoying sun downers overlooking the river and the camp's rim-flow swimming pool provides a view of the hippo-filled river below.
Accommodation
10 tented suites including 1 family suite, Outdoor showers; Wi-Fi in tents; overlooks a hippo pool
Serengeti Bush tops is a lovely luxurious lodge in the North of the Serengeti, a well-crafted and beautiful lodge that caters for every luxury one could ask for in such a remote part of the world. If you're looking for a vintage Africa safari experience, which this remote expanse of Africa is famous for, this lodge will seem rather over the top with too many modern touches.
So, you might be better off with one of the mobile tented camps like Serian or Nomads Serengeti Safari Camp. Due to the focus on luxury, we find that this lodge tends to appeal more for the mass market tourist as opposed to a seasoned safari goer.
Serengeti Bush tops
Bush tops is located in the Wogakuria area of the northern Serengeti. It is in close proximity to the famous Mara River and during the months from July to October would be home to the great migration.
Accommodation
Under Serengeti Bush tops canvas lies the finest in seductive luxury and twelve of the largest, most impressive tented en suites imaginable. None of the tents are overlooked, but all look over the Serengeti.
Each faces the sunset and is open on two sides, giving you an extraordinary panoramic view of nature's living masterpiece. The rooms have a fascinating design, all being built from wood and canvas in a really interesting and modern way.
Bedecked with beautiful wooden flooring each tent's lavish facilities include an en-suite shower area, large private terrace, a hot tub, writing desk, 24-hour butler service, 24-hour power, a dining table if you prefer to eat privately and complimentary massages in your tent whenever you wish.
Bush tops tents are simply extraordinary. Each boasts a hundred and twenty square metres of luxurious living space, providing ample room to wander at leisure, sink into a deck lounger, soak in your private hot tub or gaze out at passing wildlife.
Spacious and beautifully furnished, each offer true five-star luxury within a canvas canopy – but with space and views no hotel could hope to match.
Features of the camp
The main lodge features a central bar, wine wall, open-sided dining area, fireplace, large lounge area, and library. There is an infinity pool and Jacuzzi with expansive wooden deck has been built overlooking the Serengeti, perfect for a Tanzania honeymoon.
The service is very friendly and attentive with an incredible international menu. It really is a stunning place to sit and relax in one of the most stunning places on the planet for your Tanzania tours.
The camp is situated in the thin column of the Serengeti that runs between the Seronera, in the centre, and the Lamia Wedge, in the north. Serengeti Migration Camp in Tanzania is located at the starting place for the annual migration of wildebeest, zebra, and other game from the vast plains of the Serengeti to southern Kenya. This luxury tented camp features old world style infused with the luxury of modern amenities and excellent service.
Accommodation
The 20 spacious, elevated tents feature luxurious furnishings and private decks with panoramic views of the Serengeti wilderness. Each tent is carefully positioned to blend into the natural surroundings and provide privacy and seclusion in the bush.
Features of the camp
Along with a restaurant, this tent low has an outdoor pool and a bar/lounge. Free cooked-to-order breakfast, free Wi-Fi in public areas and free self-parking are also provided. Additionally, a 24-hour front desk, multilingual staff, and a garden are onsite.
Guests can dine under the stars or under canvas, depending on the weather, and the delicious cuisine is creatively based on local produce. You can also arrange for a private dinner on your deck, looking out across the magnificent plains.
Game drives in the area year-round provide sightings of a multitude of resident game, including elephant, lion, and leopard. During migration season, game viewing from the camp itself can be a remarkable experience, with herds sometimes crossing the river directly in front of the camp. Book the Serengeti Migration Camp in Tanzania today.
The award-winning Sayari Camp is renowned for extraordinary wildlife sightings and supreme comfort. Set on the un-spoilt plains of the Northern Serengeti, close to the famous Lamai Wedge, Sayari gives you easy access to the Mara River and multiple river crossing points in the Serengeti National Park.
Sayari Camp offers some of the world's finest game viewing – and it does so in remarkable style. Relax in your extra-comfortable hillside suite after a day on safari, or take a dip in the glorious rim-flow swimming pool with dramatic views over the northern plains.
Intimate, contemporary and elegant, it is no surprise that this permanent camp is regularly voted one of the top safari escapes on the planet.
Accommodation
The rooms themselves have been cleverly designed, on wooden plinths, in a way that allows the breeze in during the heat of the day to cool them, without feeling drafty.
They have been tastefully decorated with simple colours that reflect the surrounding wilderness, and used simple furniture that is elegant and robust.
Features
The communal areas and swimming pool at Sayari Mara Camp have also been well thought out to make the most of this great region of the Serengeti, where the sky really does meet the vast open plains of East Africa. Come and stay here and you will see what we mean by a great camp!
In the perfect location, just north of the Wogakuria Kopjes and south of the Mara River, Sayari Mara Camp is a short drive to some of the most important crossing points for the wildebeest and so, in season, this phenomenon is almost guaranteed (almost!).
Another real feather in their cap is that they are almost the only camp that is allowed up in this remote region meaning that, even in the busiest season, you can spend days without seeing another vehicle.
Serengeti Acacia Central Camp
Serengeti Acacia Camps offers one of the most beautiful camps in the Serengeti National Park, Tanzania. Explore Africa the way she was meant to be explored and get close to nature at this stunning and exclusive camp! Serengeti Acacia Camps offer various activities to enjoy.
You can either relax in your tent or in the lounge with a book in hand while listening to the sounds of wildlife or get out there, meet and hangout with the local Masai tribe, fly high with an air-balloon safari or hop on a safari vehicle for your ultimate game-viewing adventure!
Serengeti Acacia Camp has 13 canvas tents including a family tent that can accommodate a family of 4 with own private lounge. All tents are furnished with en-suite bathrooms, flush toilets and other essential amenities.
There is a separate tented camp for the dining area and next to it is the lounge and bar area. All these are accessible in a few steps under a soaring canopy of acacias, in the front of the camp. Our camp is safe and secure with 24/7 staff.
Main amenities
11 guestrooms
Restaurant and bar/lounge
Wi-Fi in the lobby
Airport shuttle
24-hour front desk
Daily housekeeping
Front desk safe
Laundry service
Multilingual staff
Picnic area
Barbecue grills
Luggage storage
Free buffet breakfast and free parking
Named after the famous Serengeti Kopjes (rocks), Mawe Luxury Tented Camp is located at the heart of Serengeti central part in the Seronera area, carefully positioned for close proximity to the wildlife herds and great migration. Stay in this luxury tented lodge and enjoy game drives directly on your doorstep every day.
Accommodation
Luxury camping Each tent is en-suite and furnished with a large comfortable bed, a wide veranda with chairs and table for relaxing with a view of plains, with a size of 8m long by 4m wide giving you the best ultimate luxury camping.
The private bathroom has a flush toilet, twin wash hand basins and a shower. Water is heated using solar heaters making it the most eco-friendly lodge in Serengeti. Electricity is provided in all tents 24hrs a day by extended solar panel system and battery storing bank.
The tent can be configured either double, twin or triple occupancy, where under prior management a 3rd or even 4th bed can be added for children below the age of 12. All tents are placed with undisturbed view of the Serengeti plains giving unique and private game viewing from the tent
Facilities and Activities
Restaurant and Bar, Lounge and bar tent, Outdoor Fireplace, Daily game drives with our 4×4 car rental vehicles and tracker guides, Optional Balloon Rides, Sun downer get together around the fire, Highlights: Ideal location for game drives movement to all areas of Serengeti, Spectacular game viewing around the camp, Hot air balloon safaris are available, Game viewing all year around, Luxury tented accommodation
Restaurant
If the weather does not allow 'al fresco meals', you will enjoy our elegantly furnished dining tent furnished with individual tables / chairs for private dining. We offer freshly prepared meals by our kitchen team which include buffet lunches & plated food for dinner.
An African Night under the Stars with local African delicacies is one of the highlights as well as our "live cooking" and different theme nights. Delicious desserts by our pastry Chef are served at lunch & dinner time. We can cater for vegetarian, gluten free meals as well any food allergies. Kindly let us have these dietary requests at the time of booking. In our restaurant we use local organically grown vegetables / eggs for our meals.
Serengeti Wildebeest Camp
Serengeti Wildebeest Camps is located in the central part of the Serengeti National Park. It features 20 spacious, self – contained private tents, with private showers and toilets. The Serengeti wild camp brings you closer to nature, as you hear elephants trumpeting far away at night.
Serengeti Wildebeest Camps is located in the central part of the Serengeti National Park, the Seronera Tana – Extra area, it features 10 spacious, self-contained private tents each equipped with private showers and toilets, the Serengeti Wildebeest Camps provides guests with comfortable and unforgettable first-hand experiences of the wildlife, landscapes, natural wonders, and the exciting atmosphere of one of Tanzania's most famous National Park
The unique and comfortable Camps it offers various contemporary amenities such as Dining & Bar Activities, internet, Sun downer cocktails to Bush meals at a private site, Serengeti Wildebeest Multi-cuisine restaurant provide a memorable dining experience.
Dining and Bar Activities
Multi Cuisine Restaurant.
African Theme Bar.
Special dietary request catered for (e.g. Vegetarian, Kosher, Gluten. free) with advance notification.
Sun downer Cocktails.
Bush breakfast at a private site.
Bush Barbecue lunch and Dinner
Transportation to /From Lodge
340 km (8 – 9 Hours' Drive) from Arusha on a dry weather road through Makuyuni, Mtowambu, Karatu Area and Ngorongoro crater.
60 minutes flight from Arusha Airport to Seronera Airstrip.
Seronera Airstrip is 7 Kms from the Camp, 'Meet and greet' and transfer services can be provided (Please advise arrival time in advance)
Kenzan Tented Camp
Kenzan Tented Camp home to the world's greatest wildlife reserves and with unforgettable scenic beauty, Serengeti National Park, Tanzania is truly a dream destination for everyone. Kenzan Camps and Safaris feature three intimate camps situated at exclusive sites of this park offering perfect settings for adventure seekers to enjoy one-of-a-kind experience with ample solitude and comfort.
Our tented camps located in the heart of African wilderness gives you endless opportunities to uncover and explore rare beauty. The best of facilities in our tents, expert chefs preparing the ultimate gourmet feasts, lush green landscapes and rich cultures are only few of the many highlights of this incomparably fantastic voyage.
Dining
Kenzan Mara Tented Camp is structured and laid in its own style offering comforts of modernity in a location with rich wilderness. Guests are offered with a feeling of exclusivity whether it is about living, dining or other experiences. Bridging the gap between authenticity and natural civilization, here you will be able to get the best of local ingredients with an amazing contemporary African-inspired setting amidst spell-binding views.
Whether you are looking for an evening of complete privacy with your loved one or are an adventure-seeker guest, you get to choose from a variety of unique dining venues. Guests can enjoy viewing inhabitants like elephants and giraffes at a distance and can soak in the romance with stunning natural beauty all around while enjoying breakfasts, lunches or dinners.
Services & Amenities of Kenzan Mara Tented Camp
Wheelchair Accessible
Airstrip Transfers
Located in a rich game area
Luggage Storage
Cleaning Services
Extra bed
Restaurant on-site
Lobby
Breakfast Room
Coffee Shop/Cafe
Walking Safari
Bush Dinner
Balloon Safari
Game Drives
Bush Breakfast
Serengeti Safari Lodge
The lodge is located in the heart of the famous Serengeti National Park, the Seronera Tana Spring Area. The lodge is located in the heart of the famous Serengeti National Park, the Seronera Tana Spring Area. It features 15 spacious self-contained tents, each equipped with private showers and toilets.
The Serengeti Safari Lodge provides guest with Luxury and unforgettable first-hand experiences in the Continent of Africa, the wildlife, landscape, natural wonders and the exciting atmosphere of one of Tanzania's most famous National Parks is modern, Luxury and offers many contemporary amenities, such as a restaurant with the local and continental cuisine, a lounge with bar, fireplace, entertainment and internet, gift shop, spa, massages and a modern swimming pool. Imagine swimming Pool in the middle of Serengeti and with this hospitality you can combine your Tanzania Uganda tours as they have lodges and hotels in both countries.
Serengeti Safari Lodge is modern, Luxury and offers many contemporary amenities, such as a restaurant with the local and continental cuisine, a lounge with bar, fireplace, entertainment and internet, gift shop, spa, massages and a modern swimming pool, imagine swimming Pool in the middle of Serengeti?
Dining and Bar Activities
Multi Cuisine Restaurant.
African Theme Bar.
Special dietary request catered for (e.g. Vegetarian, Kosher, Gluten. free) with advance notification.
Sun downer Cocktails.
Bush breakfast at a private site.
Bush Barbecue lunch and Dinner
Amenities of Serengeti Safari Lodge
Serengeti Safari Lodge is modern, Luxury and offers many contemporary amenities, such as a restaurant with local and continental cuisine, a lounge with bar, fireplace, entertainment and internet, gift shop, spa, massages and a modern swimming pool, imagine swimming Pool in the middle of Serengeti
Serengeti Simba Lodge
Serengeti Simba Lodge is named after the lion (Simba in Swahili), king of the jungle, a symbol of strength, pride and royalty sits high on a hill with endless vistas of the great Serengeti plains. We welcome you to explore experience and enjoy the African wilderness and the amazing Serengeti as our guest at Serengeti Simba Lodge.
The 'Serengeti Migration' passes the lodge twice a year, around June-July and again in October when millions of ungulates make their annual trek through the Serengeti eco-system. With awe-inspiring panoramic views of the vast savannah, Serengeti Simba Lodge is home to prolific birdlife and a stunning array of large game including: lion, buffalo, cheetah, leopard, giraffe, elephant, bush buck, zebra, gazelle and hartebeest.
Night game drives and performances by the Simba Dance Troupe will add to the experience of spectacular sunrise and sunset. At night listen to the trumpeting of elephant, the laughing hyenas and the roars of our namesake.
The common area of the lodge (reception, bar and dining) is built around a 'kopje' or rocky outcropping, providing an unusual and natural background for your enjoyment. But the one thing everyone comments on is the amazing views of the Serengeti to be seen from every vantage point on Serengeti Simba Lodge's grounds.
Children over age six are most welcome at the lodge and must be under parent's supervision at all time. Children under the age of thirteen must share a room with an adult (17 or older). There are two large family rooms in our Stone House.
Mbalageti Safari Camp
Mbalageti Serengeti is located in the Western corridor of the Serengeti National Park, the largest and most famous national park in Tanzania. One of the main attractions is the annual migration of the wildebeests and its large number of lions, cheetahs and herds of giraffes and zebras.
The Mbalageti Serengeti is situated on the Mwamveni hill and offers a breath-taking panoramic view of the Serengeti plains and the Mbalageti River. Entering from the Mwanza-Musoma highway, through the Ndabaka gate (1.5hrs) or from Naabi gate from Arusha
Exclusive family suites
The exclusive family suites have 2 bedrooms. One with a king size bed and one with a twin-bedded solution. The suites are our most luxury accommodation, with TV Lounge & Dining Area
All Ex-Suites have mineral water, bathrobes, slippers, flashlight, umbrellas, walking stick, whistle, binoculars, safe deposit box, an emergency light and satellite Tv.
Tented Chalet
The Tented Chalets are situated 12 each on either the Sunrise or Sunset side of the hill. They are semi- tented with a back wall of local rock and wooden floor. Decorated with a true 'bush theme', the Tented Chalets are giving your guests a real safari living experience. All Chalets have both shower and bathtub, some of our Chalets with the bathtubs on the veranda. The Chalets are located far apart to ensure privacy and exclusivity. Extra treats can be arranged and charged supplement.
All Chalets have mineral water, bathrobes, slippers, flashlight, umbrellas, walking stick, whistle, binoculars (on request), safe deposit box and an emergency light.  The Tented Chalets are in harmony with nature.
Lodge Rooms
The Lodge Rooms (Standard Type) are not Tented but in a block building. The rooms are comfortably offering all amenities and are beautifully decorated. All Standard Rooms have en suite bathroom with a shower and its own veranda. The Standard Rooms are located approximately 500 meters from the main building.  We offer Doubles and Twins, no Triple Rooms available. Our Standard Rooms are more of a "one night stop-over" or a budget option for the travelers. All Lodge Rooms have mineral water, flashlight, umbrellas, and walking stick.
Soroi Serengeti Lodge
The newest property in our collection, Soroi Serengeti Lodge is set high on a natural plateau with endless views of the Musabi Plains in the Western Corridor of the iconic Serengeti National Park. The architecture, design and modern décor of the thatched chalets built on the edge of the plateau make Soroi Serengeti Lodge unique, offering the visitor an unforgettable Serengeti safari experience. The three-tier decked main area, with swimming pool, fire place, open plan restaurant and kitchen, is where classic meals are served with care and attention.
The lodge has an eclectic combination of architectural shapes, textures and colors combined with modern styled interiors. The three-tier main deck comes royally outfitted with a fireplace mezzanine, dining floor, and library corner alongside an infinity pool.
Twenty-five magnificent thatched chalets, complete with hardwood floors and baths, are tucked away amongst the acacia trees. Golf-cart escorts accompany guests from the main deck to their rooms. Each room boasts a private uninterrupted view of the Musabi plains, appreciable from the personal balcony or additional outdoor shower. Upgrade to a Luxury Safari Room for extended lounge facilities.
This Eco-Friendly Lodge uses solar hot water geysers, inverters with batteries and organic room amenities, ensuring a low carbon footprint.
Accommodation
Twenty- five individual thatched chalets complete with hardwood floorboards and dreamy mosquito nets are linked to the main lodge by raised timber walkways. With soft comfortable furnishings, combining fabrics and finishes with traditional earthy tones, the rooms feature large expanses of glass and spacious viewing decks for better game viewing. Each room features a writing desk and chair, en-suite bathroom with a stand-alone bath, an outside shower for the more adventurous and a full range of guest amenities. The Luxury Safari Rooms offer an extended lounge area with a mini-fridge.
All accommodation includes
Private balcony with sun loungers
Writing Desk
Luggage Rack
Hair dryer
In Room Safe for valuables
Outside shower
En-suite Bathroom
Toilet and bidet
Indoor Bathtub
Four poster bed with mosquito nets
Guest Amenities
24-Hour Inverter Electricity
Solar Powered Hot Water Geyser
Power point for charging of electrical equipment (220V)
Laundry services included
Turn down service
Fan
Wi-Fi (dependent on satellite reception)
In Room Phone
Mobile Camps
Wayo Green Camp is situated in the Serengeti of Tanzania, moving four to five times a year with the Great Migration; ensuring guests get to see the large herds of wildebeest. Wayo Green Camp is an eco-friendly camp, designed to be one of the most environmentally friendly camps in Tanzania. Wayo Green Camp has been upgraded with more spacious tents and off-the-ground-beds.
The main highlight of the Serengeti National Park is the Great Migration (in season) and the extraordinary experience of visiting the Moru Kopjes area. Game drives take place with guests' very own guide at Pumzika Safari Camp and is a unique experience.
The wildebeest and zebra share the land with elephant, giraffe, Thomson gazelle and a variety of other wildlife. There are plenty of big cats to see in the area with large lion prides and cheetah often sighted in the area.