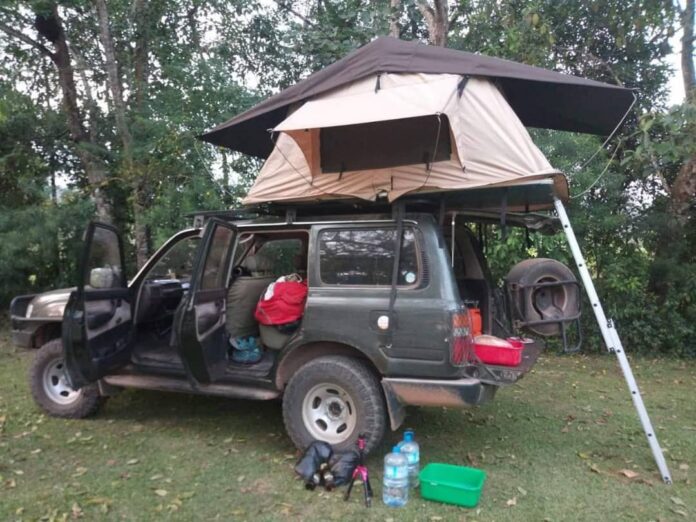 The 4×4 Car Hire Uganda provides the ultimate in ease and convenience when traveling in Tanzania. Unfolding in minutes, a rooftop tent provides sleeping quarters off the ground, protected from the elements. Spacious and comfortable, all bedding can remain inside the tent during the journey, freeing up vital storage space in the vehicle, and allowing the tent to be quickly and easily packed away.
Having traveled all over the continent and people often ask me: "What is your favorite country in Africa?" It is a silly question, but it is easier just to give an answer than to start to explain about what makes each country special and unique.
My answer is usually Tanzania. Its northern safari circuit is allusive of Kenya, but on a bigger scale. The lesser-known southern and western circuits are like different safari destinations in their own right. The combination of brilliance and diversity in Tanzania is unrivalled with a 4×4 rooftop tent vehicle.
We chose to rent a 4×4 rooftop Toyota land cruiser V8 through 4×4 Car Hire Uganda. The person in charge of this rental, Moses, was perfect. Very friendly, there to give advice, he was very helpful and supportive through the journey.  The people here are friendly, helpful and flexible. The car provided performed perfectly. The booking and arrangements were expertly handled on what's' up by Moses. It took us safely round Tanzania in late January for 5 weeks.
Firstly the vehicle is equipped with everything you will want for the cooking equipment includes the essentials such as pots, plats, cutlery, a gas stove, kitchen utensils, camping table with 2 chairs, sleeping bags among others. Rooftop tents are a unique way to experience the great outdoors, no matter the conditions. These tents are built to last. They handle bad weather better than ground tents and can be used in tricky terrain.
The vehicle dealt with all the terrain I could throw at it with ease and after day 10 never worried about breaking down. Basic tools, jack, wheel spanner, first aid kit, etc., but we never got into trouble with the land cruiser; no technical problems and we never got stuck. The fridge is fantastic to keep food and water cool. The car is very reliable. We didn't had a technical breakdown despite the bad road conditions in Tanzania's National Parks.
The Land cruiser rooftop tent was very reliable; we didn't even have a flat tyre. Which is rare, I guess. The car is very strong, sometimes the roads went up steeply, but it was no problem for the car. The rooftop tent is spacious enough for 2 people. Roof top tents are good quality Tentco brand from South Africa.  The car already has some scratches, so no need to feel guilty if you add 1 or 2 scratches.
Since I was on top of my vehicle, most rooftop tents are accessed via a telescoping ladder. This means that if it rains, you will not be sleeping in a puddle or in a mud pit.
It's also easier to catch a breeze when you are off the ground, so your tent will be better ventilated and stay cooler in the summertime. Plus, you'll have a better vantage point being up off the ground it's almost like being in a tree house!
Being off the ground also helps keep dirt out of your tent. For instance, if you are camping on sand or dusty ground, you can climb up on the ladder, brush off your shoes, and then get into the tent without tracking anything inside. Despite other rental firms we had the strong feeling that the vehicles are well maintained and in good shape. Do not compare the mileage of the car with normal passenger vehicles as such Land cruisers can handle much more mileage and will still be on good shape.
One might say that the daily rate is not so cheap, but you will not need further money for accommodation anymore and it is much easier to find free spaces on camp sides or lodges with camp sides even in high season at moderate prices.
The experience to wake up in very remote places early in the morning, enjoying the first sun rays touching the fresh air, hearing all kinds of birds and animals without the disturbance of city and traffic noise and seeing real wildlife in its natural environment was almost a life changing holiday experience for us. Thanks to 4×4 Car hire Uganda we enjoyed all.  We for sure recommend this company.