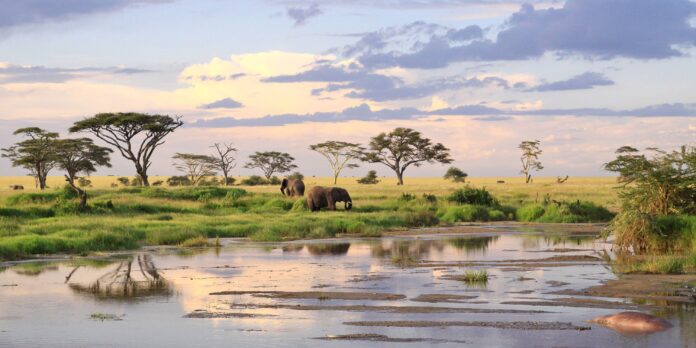 Having traveled all over the continent, people often ask me: "What is your favorite country in Africa?" It is a silly question, of course. I usually feel the need to explain what makes each country special and unique, but if I'm honest with myself, the short answer is "Tanzania". The quality and quantity of its magnificent network of national parks and game reserves is hard to beat.
Tanzania, its larger neighbor boasts Africa's single most famous park, and arguably offers even more than Kenya in terms of variety and quantity of wildlife. The scale and wilderness of its magnificent landscapes suggests an endless world of possibilities, and after many years enjoying Tanzania safaris across the continent, it is certainly the country that I most want to explore.
First-time visitors to Tanzania tend to focus on its northern safari circuit, which incorporates bucket-list landmarks such as Serengeti National Park, the Ngorongoro Crater, Lake Manyara and Tarangire National Parks, and Kilimanjaro, Africa's tallest mountain.
The famous park is, of course, Serengeti, which hosts the vast annual migration of over one million wildebeest and other herbivores, plus a bonanza of other wildlife. It forms the centerpiece of the country's celebrated 'Northern Circuit', which also includes Ngorongoro Crater, Lake Manyara and Tarangire, each a spectacular wildlife destination in its own right and easily combined within a single package tour.
I like going a bit off the beaten track while visiting this popular circuit. The stark but beautiful area of Lake Natron, with its flocks of flamingos and traditional cultures, is always worth the detour and the challenging climb to the top of the active volcano Ol Doinyo Lengai is one of my all-time travel highlights.
I equally love the less-publicized southern circuit. Here you can lose yourself in some of Africa's biggest wilderness areas. Although wildlife densities aren't as high as in Serengeti, the focus is on a rounded bush experience. I especially like to mix up game drives with walking safaris and boat trips on the mighty Rufiji River in Nyerere National Park. Ruaha National Park, with its rugged landscapes and healthy wild dog population, is another favorite.
The grassy floodplains of Katavi National Park, in the Western circuit, attract huge numbers of animals in the Dry season and I've often felt like I had the whole park to myself. You won't believe the wildlife spectacle that unfolds here when thousands of hippos are pushed together in the dwindling river, the only source of water in a vast area.
A safari in Katavi is often combined with chimp tracking in Mahale Mountains National Park, arguably the best place to see these charismatic primates in Africa. Wherever you go on safari in Tanzania, you're only ever a short hop away from the offshore spice island of Zanzibar.
As well as its famous game reserves, Tanzania offers some unique attractions all its own. There are the forested shores of Lake Tanganyika – home, at Mahale and Gombe, to Africa's best chimp tracking; the snow-covered summit of Kilimanjaro, for safari-goers who need to stretch their legs (and lungs) after a week in a Land rover; and the beaches of Zanzibar and other Indian Ocean islands, on which to kick back and wash off all that safari dust.