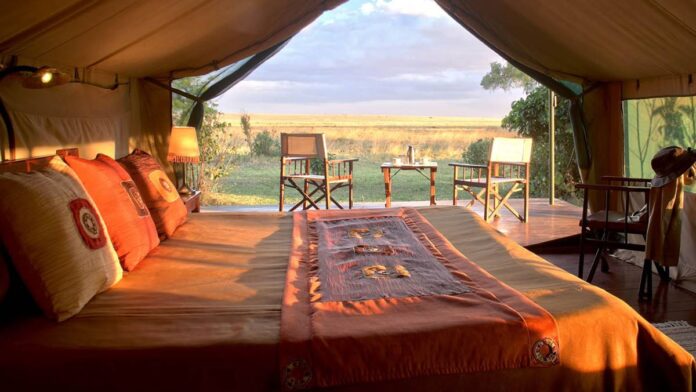 Sand River Masai Mara
Catch up to the sounds of the African bush and slowly make your way out of a snug 4-poster bed. Saunter across your spacious tent's polished hardwood floors, step out onto a private veranda and be greeted by the gorgeous morning vista of the Sand River and its rolling flood plains.
Saruni Mara
Get to the community-focused Saruni Mara, hidden in a secret valley of olive and cedar trees. Settle into your luxurious cottage boasting antiques, Persian carpets and wide cedar wood beds. Join Maasai warriors on a guided bush walk to explore the surrounding hills, followed by a relaxing spa treatment in the tranquil Maasai Well-being Space. This is one of the best Masai Mara lodges for discerning travelers.
Topi Mara Bush House
Enjoy a comfortable armchair on the veranda right outside your room, observing elephant and giraffe amble by. Or stretch out on this luxury Masai Mara lodge's lush lawns with a tipple and a good book under the shady canopy of an acacia tree. Don't forget to chat to your chef about your next delicious meal…
Cottar's 1920s Camp
Journey back in time to a golden era of safari, to an elegant Masai Mara lodging straight off the pages of Hemingway's safari diary. Decorated in an authentic historic style, Cottar's Camp offers its visitors unrestrained adventure and romance, as well as game drives in an original wood-panelled vehicle from the 1920s.
Porini Lion Camp
This is a superb Masai Mara lodging situated in the private Olare Motogori Conservancy, renowned for its superb big cat sightings. Return to the authentic Porini Lion Camp in time for a refreshing cocktail while being entertained by the boisterous hippos in the adjacent Ntiakatiak River.
Sala's Camp
Get in the heart of the Mara's northern corridor, Sala's is one of the first Masai Mara lodges to witness the Wildebeest Migration from the Serengeti into the Mara. Keep an eye on the dark-haired gnus as they stroll past your tent and gather to drink at the confluence of the Sand and Keekorok Rivers.
Kichwa Tembo Tented Camp
Kichwa Tembo is a much-loved Masai Mara safari lodge. A wonderful home from home with incredible staff, expert guides and front-row seats to the Wildebeest Migration from about August to November.
Mara Intrepids Camp
Mara Intrepids is a fenced Masai Mara lodging on the shady banks of the Talek River, the perfect escape for families with children. This secure camp offers a unique game-viewing experience with early and mid-morning, and late afternoon game drives.
Angama Mara
Relax in the gorgeous hills of the Mara Triangle escarpment lies one of the best Masai Mara hotels. The exclusive Angama Mara is famous as the location of Robert Redford and Meryl Streep's romantic picnic scene in the movie, Out of Africa. Everything about this Masai Mara lodging exudes elegance.
Rekero Camp
The best for guided game drives in search of animals like lion, cheetah, leopard, elephant and hippo. Watch the dramatic thrills and spills of the Wildebeest Migration as the herds traverse croc – infested waters. Return to this Masai Mara lodging after an action-packed day and relax with a sun downer drink as you take in the gorgeous views over the Talek River.
Naboisho Camp
A classy and affectionate Masai Mara lodging originally established as a community initiative, Naboisho Camp is situated in a private conservancy that limits the number of vehicles allowed. Enjoy exciting game drives during the day, in search of Africa's iconic animals and to witness the Wildebeest Migration between about July and November. Being in a private conservancy means that you're able to head out on night drives to discover the Mara's elusive nocturnal creatures.
Elephant Pepper Camp
The classic and spacious canvas tents at Elephant Pepper Camp feature en suite dressing rooms and bathrooms, and private pit fireplaces for dining under the stars. Also expect little extras like hammocks, hot-water bottles and beautiful brass fittings from India. Sip on a pre-dinner drink around the campfire or enjoy a game of croquet before savouring a delicious Italian recipe.
Sanctuary Olonana
Romantic and secluded, Olonana is hidden within a forest along a private stretch of the Mara River and one of the best Masai Mara hotels. It's a popular choice for honeymooners but also offers first-class family-friendly accommodation. Between about July and October, you'll enjoy a grandstand view of the Wildebeest Migration's treacherous river crossings.
Governors' II Moran Camp
It is managed by the Governor's Camp and it one of the best Masai Mara safari lodges, Il Moran's Forest setting is a wonderful retreat for honeymooners. Ten luxurious tents are dotted along the Mara River beneath the shady canopy of evergreen trees. Inside you'll find super king-sized beds, beautifully constructed from fallen olive trees.
Little Governors' Camp
Jump on a boat to be transferred across the renowned Mara River, before strolling through a gorgeous riverine forest to discover one of the best-located Masai Mara safari lodges, hidden beneath the vegetation around a waterhole. Head out on a game drive or hot-air balloon ride at dawn to discover the Masai Mara during this magical time of day. Bathrooms are en suite and equipped with double vanities, showers and classic Victorian bathtubs.