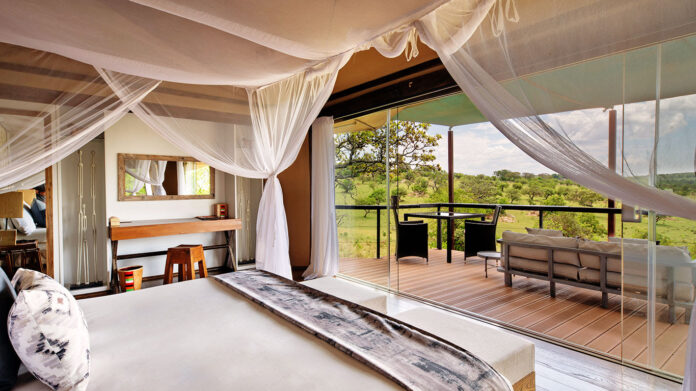 Lemala offers luxurious safari lodges and camps, intimate villas and classic tented camps located in Tanzania's Serengeti, Ngorongoro and Tarangire regions, and Uganda's River Nile. Experience superior comfort and service. Exceptional guides, year-round game viewing at Lemala camps both in Tanzania and Uganda. Therefore, with our Lemala Tanzania Uganda Safari you will have your honeymoon vacation covered and you will have the difference between the old and current African hospitality services.
Lemala Kuria Hills Lodge is remotely located in the Wogakuria Hills of the Northern Serengeti. A scenic region characterized by grassy rolling hills, open woodland and tree-lined water courses, it is a habitat that attracts wildlife throughout the year.
Lemala Kuria Hills is in close proximity to the Mara River on the Serengeti's border with Kenya's Maasai Mara, so is also within the main corridor of the world-famous wildebeest migration between July and October. ​
Our lodge offers luxury and sophistication, where you can choose to either relax in style or enjoy the Northern Serengeti's excellent game viewing with our superb guides in open 4×4 vehicles.
There are several dining options at the lodge or out in the bush, and delicious meals include a choice of starters, main courses, desserts and house drinks. Afternoon tea is served before your game drive, and cocktails at sunset are taken on one of the kopjes with distant views of the Isuria Escarpment in the Maasai Mara.
Wild Waters Lodge lies on a unique private island mid-stream within the mighty River Nile in Uganda. It's in a sublime location and only reached by boat which makes it a very adventurous place to stay. It is uniquely perched on granite rocks with dramatic and exciting rapids roaring all around.
Activities on the river for guests in the nearby adventure hub of the Jinja area including heart-pounding white-water rafting or bungee jumping and gentler horse riding or fishing. Additionally, Wild waters is a perfect platform for viewing some of the more than 1000 bird species that Uganda is so famous for from turaco and cuckoos to hawks and eagles and you might also spot giant otters and monitor lizards in the water.
After an adventurous day Wild waters Lodge also offers a relaxing and intimate location for honeymooners and couples looking for some quiet time. Especially for those taking advantage of the spa nestled over this ancient river.
Lemala Ewanjan is an authentic intimate tented camp set in a secluded part of the game-rich Seronera Valley in Central Serengeti. The Seronera region is an important wildlife transition zone between the southern grasslands and the northern woodlands, renowned for its year-round game viewing due to its abundance of water in the many rivers, as well as for its large populations of resident big cats. Additionally, between April and June, and again between November and January, this area is crossed by the annual wildebeest migration, which provides always thrilling wildlife drama.​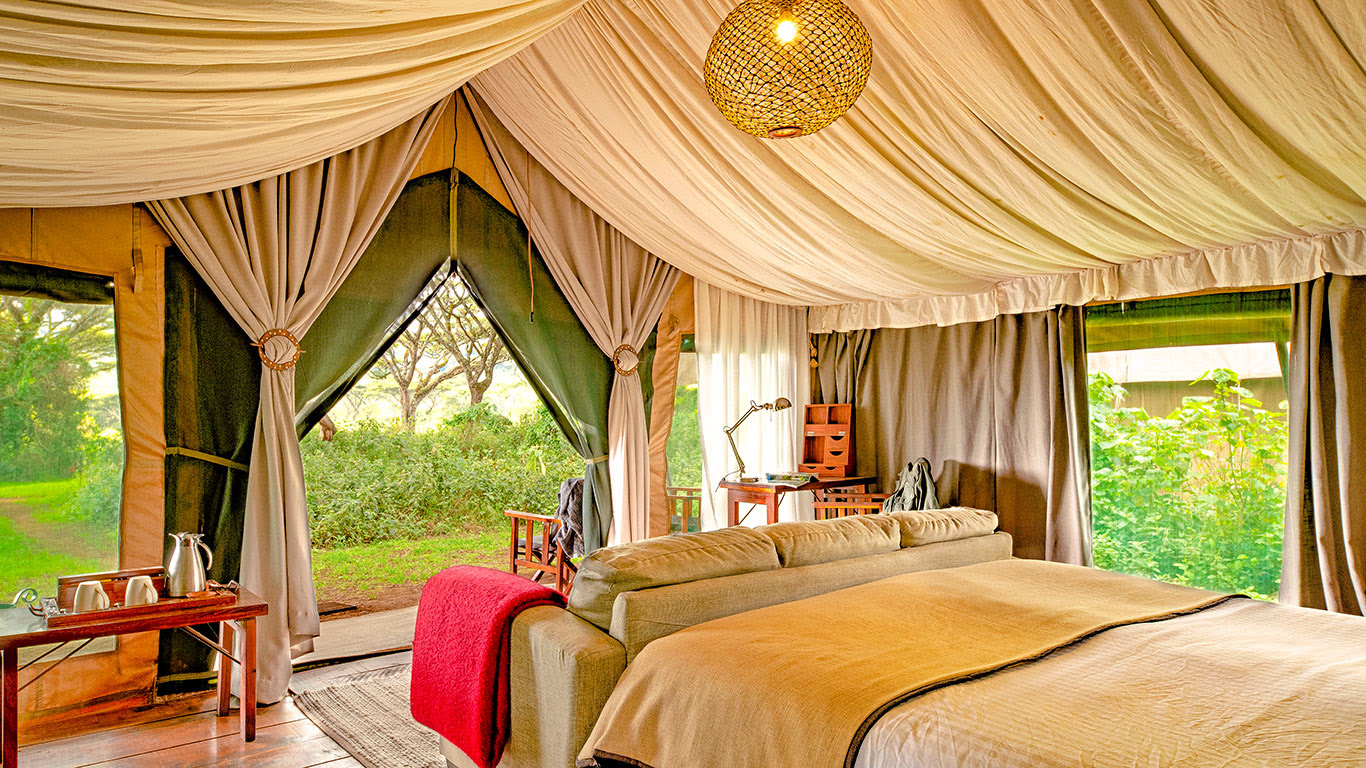 Lemala Ewanjan is positioned right at the end of a blind valley, so other vehicles will not interrupt your view across the plains during the day, and in the evening, you can enjoy uninterrupted sunsets with no electric lights in sight.
Lemala Ngorongoro is set in a delightful ancient acacia forest close to the rim of the magnificent Ngorongoro Crater. As it is located next to the quiet Lemala crater access road on the eastern side, a key advantage of staying at Lemala Ngorongoro is the quick and easy drive down on to the crater floor in the morning; Lemala guests usually have an hour's head start over others descending via the far busier Seneto crater access road on the western rim.
And of course, can stay later in the afternoon before returning to camp. As Africa's game is most active in the early morning and late afternoon this means better wildlife experiences for Lemala guests.
Game drives from camp may start as early as 6.15am and guests can be down among Ngorongoro's abundant wildlife on the floor within 10-15 minutes. Photographers who demand the best light conditions are at their full potential. Escorted walks are also available into the forest and along the crater rim with an armed ranger and Maasai guide.
Lemala Mpingo Ridge sits on top of an escarpment with sweeping views across the perennial Tarangire River and valley below and matches the same outstanding standards of comfort and service as the other properties in Lemala's collection.
Being the sixth largest national park in Tanzania, Tarangire remains slightly off the main safari circuit but is a terrifically scenic park featuring classic African Savannah, green hills, woodlands and rivers and is especially famous for its large herds of elephants, superb birdlife and giant baobab trees.
Guests at Lemala Mpingo Ridge will enjoy a real sense of wilderness and excellent game viewing, and it's both a relaxing standalone destination and a great place to start a safari that also combines Lemala properties in the Ngorongoro Crater and Serengeti.
Hamerkop House by Lemala
This private house is located on a wildlife and golf estate, Kili golf, situated halfway between Kilimanjaro International Airport and Arusha, and offers a great place to start or finish your safari. It is perfect for couples, families or small groups traveling together. Each bedroom is en-suite with a private veranda and lounge. The house can be taken on a private exclusive use basis or shared and can be booked on a bed and breakfast, half board, full board or all-inclusive basis.
Arusha is the gateway to some of Tanzania's best national parks, and Hamerkop House a great way to recover from the rigours of your journey to Africa – or to sit and reminisce on your adventures before starting your journey home, start your safari experience.
Access to Tanzania's only championship golf course means guests can enjoy a relaxing and incredibly scenic round under the shadow of both Mount Meru and Kilimanjaro. Booking this house, you are rest assured that you will enjoy the famed Lemala level of service, guaranteeing that from start to finish you will be exceptionally well looked after with a tailored experience.
Lemala Ndutu & Lemala Mara moves north and south with the seasons to ensure guests enjoy ringside seats to the spectacle of the magnificent wildebeest migration year-round. Both are set up in sublime locations offering a high-quality safari experience with excellent guiding.
Lemala Ndutu Tented Camp is in the Ndutu region of the Ngorongoro Conservation Area near the border of the Southern Serengeti. This area is classic Savannah, characterized by flat grassy plains, and our camp is in one of the finest locations in Ndutu to see the migration between December and March.
Tens of thousands of wildebeest, zebra and gazelle usually arrive in December to graze on the newly-watered, highly nutritious short grass plains, and then by February, the main calving season takes place. Predators especially the big cats are highly concentrated in the Ndutu area in these months. With 9 tents, Lemala Ndutu is perched on the edge of a permanent marsh and acts as the ultimate amphitheatre to capture the boundless drama that accompanies the migration
The 12 tents of Lemala Mara Tented Camp travel north between June and October to set up under large Euclea trees in one of the best game viewing areas of the Northern Serengeti. The exact location varies from year to year.
Sometimes we set up camp close to the Mara River, but are always far enough away to remain discreet and not interrupt wildlife behaviour as the wildebeest mass along the steep banks during their frantic crossing on their way north to the Maasai Mara.
Resident wildlife numbers are always high, but nothing compared to the dramatic scenes during the migration as tens of thousands of animals gather to then plunge into the crocodile-infested river.
Lemala Nanyukie matches the same outstanding standards of comfort and service as the other properties in Lemala's luxury collection.
Meaning 'endless plains' in the Maasai language, the Serengeti is undoubtedly one of the world's most celebrated wilderness areas. Lemala Nanyukie is located a 60-minute drive east of the Seronera Airstrip in the park's central region, and is superbly located with outstanding views across these fascinating 'endless plains. The camp itself sits on a grassy savanna dotted with rocky kopjes and shaded by ancient giant acacia trees.
This area of the Serengeti is crossed by the thrilling wildlife spectacle of the annual wildebeest migration, but also has high-density game-viewing at all times and is well-known for its large concentration of cats, so much so that until recently this area was set aside for scientific research into predators, especially cheetah. As such, Lemala Nanyukie is open year-round, and safari activities like game drives and walks will be offered if you are interested in them.