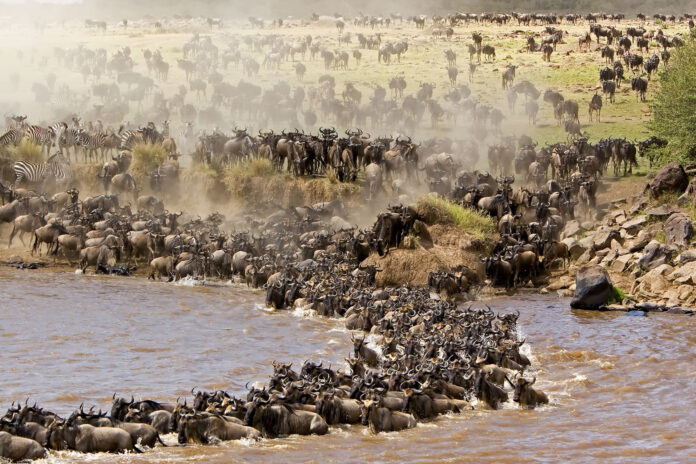 This Tanzania safari will give you the chance to see the big-five animals, birds, lakes, rivers, forests, waterfalls, mountains, beaches, the great wildebeest migration and a lot more. Not forgetting one of the countries with beautiful & amazing people also the best Swahili speaking nation.
Start with Africa's tallest free-standing Mountain that attracts a huge number of visitors especially mountain climbers. The Mount Kilimanjaro is located in northern Tanzania 48km from Moshi town and can be seen even from miles away. The Kilimanjaro national park was declared as a game reserve and forest reserve in the early 1920's then opened for public access in 1977. Mount Kilimanjaro is a world natural wonder and visitors can get to enjoy mountain climbing all year, nature walks, birding, cycling, paragliding and more.
Proceed to The Serengeti national park located in northern Tanzania an African Paradise and a well-known destination for the great wildebeest migration, one of the greatest wildlife spectacles. The wildlife park has got a unique biodiversity and physical features from plains to rolling hills, valleys and mountains.
The park is filled with more than 1.5 million wildebeest, 200,000 zebra and 500,000 Thompson's gazelle. Arguably Tanzania's most famous destination, Serengeti national park can be visited all year but the best time is mid-May to mid-October.
The Serengeti safaris offers some of the best wildlife viewing in Africa. All the major safari animals occur in great numbers. Cheetah and four of the Big 5 are easily seen, but rhino sightings are rare, and only black rhino are present. Aside from the big cats, many other predators can be spotted including spotted hyena (especially in the morning), jackal and bat-eared fox.
Unwind at the coast-line of Zanzibar which offers some of the best beaches in the world, making it an ideal destination for an individual couple or group willing to relax on their holiday. Zanzibar is the semi-autonomous part of Tanzania in East Africa and is composed of the Zanzibar Archipelago in the Indian Ocean, with many small islands and two large ones i.e., Zanzibar/Unguja the main island and then Pemba. The capital is Zanzibar City, located on the island of Unguja.
Zanzibar a fabulous place to explore as well as a dream to relax and unwind. Day-long spice tours to working plantations offer visitors the chance to observe the cultivation of cloves, vanilla, nutmeg, cinnamon, and other spices that have made the island famous.