This is a Tarangire, Serengeti, Ngorongoro Crater and Lake Manyara camping safari. The Tanzania safari will take you around the best places in Tanzania, visiting places such as Lake Manyara which is famous for its tree-climbing lions. You'll visit the Ngorongoro Crater, also known as the Garden of Eden, Serengeti National Park and Tarangire National Park.
Visit Arusha to Tarangire National Park. You'll be picked up from your Arusha hotel at 8:00 am and then take 3 hours' drive to Tarangire National Park. You will have a full-day game drive inside this park. Later, you will drive to Jambo Lodge for dinner and your overnight stay.
The location of Tarangire National Park is 115km from Arusha and it covers an area of 2800sq km. wild animals drink water from the Tarangire River where the name Tarangire comes from. The park has major attractions which are a large number of elephants, climbing trees pythons and baobab trees.
The elephant viewing in Tarangire is truly astonishing. It is far from unusual to see more than a dozen matriarchal herds, comprising a few hundred individuals in total, over the course of a single game drive. Elephants are most prolific along the Tarangire River, where they gather to drink in the midday heat. Large numbers of wildebeest, zebra, buffalo, impala and hartebeest also concentrate along the river in the Dry season.
From Tarangire to Serengeti National Park. After breakfast, we'll head towards the Serengeti National Park, via the beautiful high-lying farmland of Karatu and the Ngorongoro Conservation Area. Leaving the highlands behind, we'll descend into the heart of wild Africa, the Serengeti National Park with its endless plains, rolling into the distance as far as the eye can see.
We'll head to the central park area, known as the Seronera area, one of the richest wildlife habitats in the park. It features the Seronera River, which provides a valuable water source to this area and therefore, attracts wildlife well representative of most of the Serengeti's species. We will arrive in time for lunch and enjoy an afternoon game drive in the Serengeti National Park. Overnight stay at Seronera public campsites.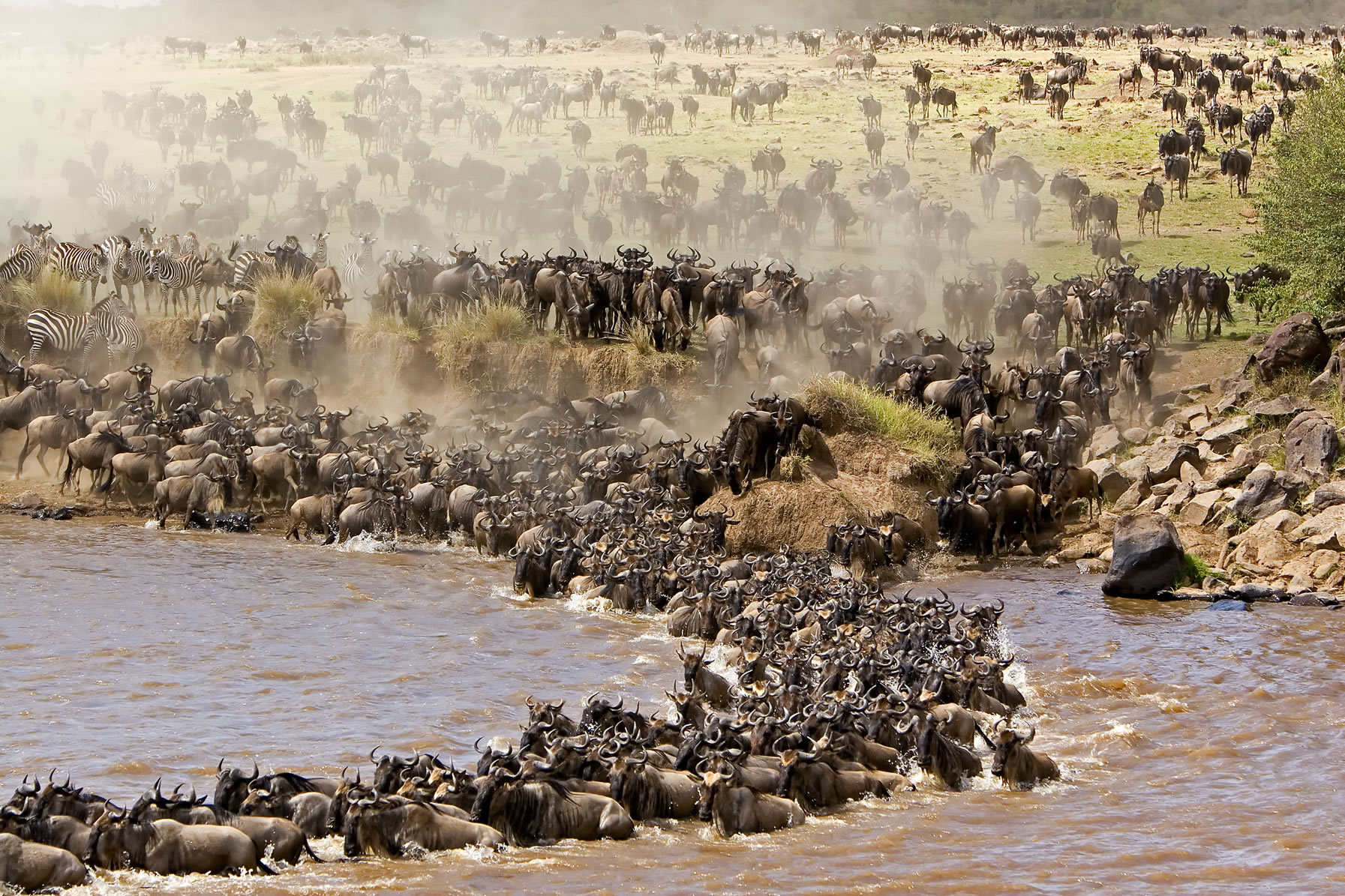 Wildebeest Migration Crossing Mara River, Tanzania – Kenya
Visit Serengeti National Park to Ngorongoro. You will wake up at 5.45 am for an early breakfast and see the sunrise inside Serengeti. After you finish your breakfast, you will do an early morning game drive up to 11:30 am then head back to the campsite for the hot lunch. The Serengeti is also known for its high density of predators, and the chance to watch lions and other cats – often at very close range – is another treat. I also like the Serengeti's quieter side – its wealth of birds and its nature-filled stillness.
Shorter safaris concentrate on the well-visited central Serengeti. With more time and depending on the season, I'd also recommend spending at least part of your Serengeti itinerary in the western corridor around the Grumeti River or in the far north. Afterwards, pack your stuff in the jeep. This time after finishing your hot lunch, you will proceed with a game drive in Serengeti while heading to Ngorongoro Crater in Simba Campsite for dinner and your overnight stay.
Visit Ngorongoro Crater to Lake Manyara. You will wake up around 5:30 am for your breakfast. After breakfast, you will descend to the Ngorongoro Crater floor where you will able to see all the Big Five. Once inside the crater, wildlife highlights include the heavy-tusked elephant bulls that haunt the swamps, and a small population of the rare black rhino, which is regularly seen in open terrain.
There are also astonishing densities of spotted hyena, lion and other predators. The crater floor is one of the best places to look for serval, a long – limbed small cat that rather resembles a miniature cheetah, but has a larger, blotchier spot pattern. And the plains are almost invariably scattered with plenty of wildebeest, zebra, buffaloes and gazelle. You will also see different types of birds and black rhinos available inside crater. On this day, you will have your lunch inside the crater while watching nature and high concentrations of flamingos.
Later, after 6 to 7 hours of game drive inside the crater floor. You will start ascending from the crater passing through the campsite for packing all your luggage inside the jeep, ready to drive back to Jambo Lodge for dinner and your overnight stay. On this day after the crater tour, you will have a walking tour inside Mto wa Mbu village where you will experience how local people live.
Visit Lake Manyara National Park. You will head to Lake Manyara for a full-day game drive. Lake Manyara is famous for its tree-climbing lions, and I've been lucky to witness this little-understood behavior here on several occasions. Another draw is the big elephant population. I've had some very close encounters with massive tuskers, which tend to be particularly relaxed here. The park's other claim to fame is the opportunity to see flamingos. Unfortunately, the road that used to run close to the shore has been closed for several years and might not be reopened.
Inside the park, you will be able to see tree-climbing lions and a lot of flamingos attracted by the algae in the lake and you will visit a hot spring. Also on the same day, you will visit a Maasai boma, where you will see how they live and learn about their culture and traditions. Later, drive back to Arusha for dinner and your overnight stay.